Jenelle has had her share of confrontations with people in the past, from her mom, to boyfriends/friends, and other Teen Mom stars.  Her latest drama is a bit hypocritical to say the least.
Jenelle recently  took to Instagram to call out Maci Bookout's baby daddy, Ryan Edwards and his wife for Ryan's on camera drug use and that "maybe that shouldn't be aired on tv for young people to see".
She went on to say that in her apparently expert opinion, "he's being enabled by, and um multiple people and family, and it seems like that's how its always been so…".
She ended the video by suggesting that maybe Ryan's wife Mackenzie should block her now, as she is currently following Jenelle on Instagram and has been messaging with her.  It sounds like Jenelle was actually being pretty nice to Mackenzie at first and complying with her request to take down some posts.
Then of course, things got nasty.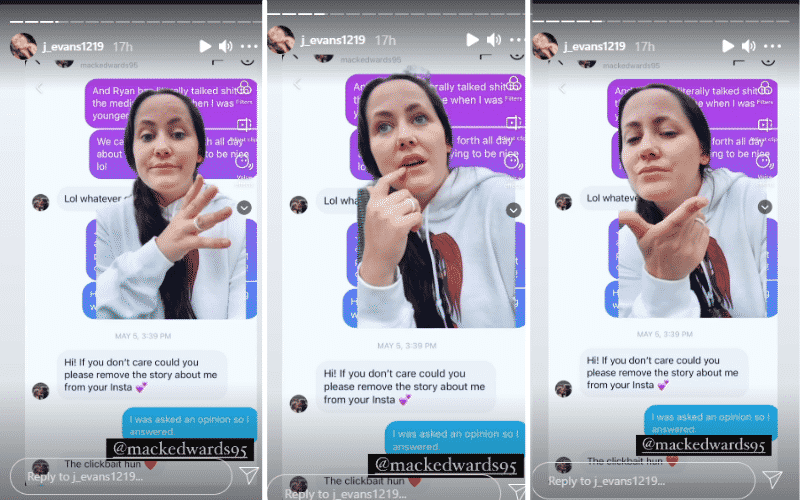 Jenelle then took to Instagram again to reply to some fans who were calling her a hypocrite for calling out Ryan's drug use, when clearly she has had her share of on camera drug use also.
She tried to claim that there is a difference between her and Ryan Edwards's drug use, because she admitted it.  She said, "I told everyone I was on drugs, I acknowledged the problem and I fixed it to become a better person."
She went on to say, "Now are they acknowledging the problem? No. Are they suggesting maybe he should go to rehab? I probably don't think so.  It sickens me when there are outsiders that are their support system that don't call them out on their bullshit.
After the ending the video she went back quickly to add "I also want to point out that looking back on everything, me being on drugs and being filmed and on tv, I don't approve of that and I think it was too explicit for a young audience to watch.".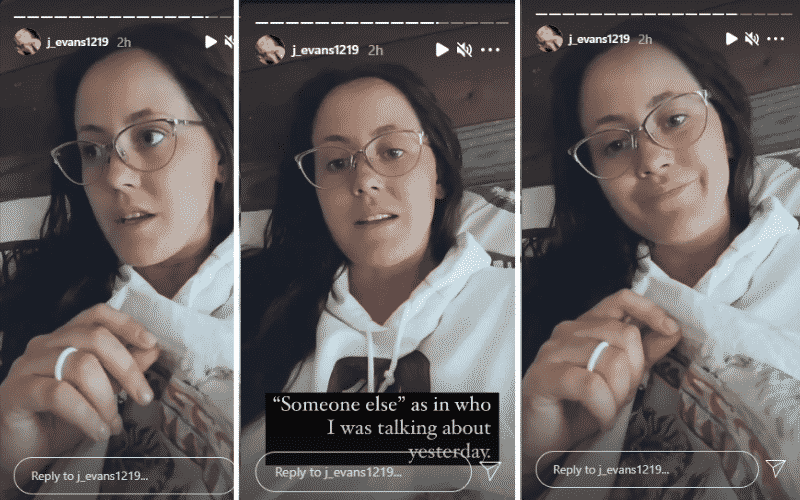 And as always Teen Mom fans had a lot to say about the beef and the hypocrisy of it all.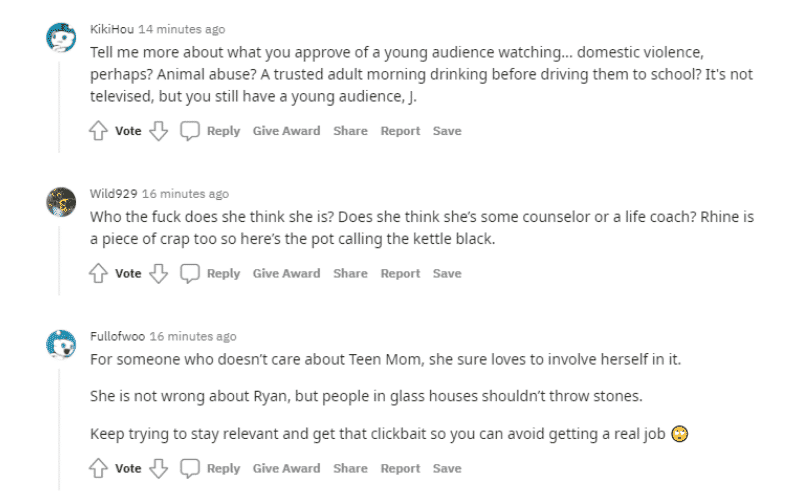 Is Jenelle any better than Ryan? That is yet to be determined, but it not looking good.
See the drama for yourself on Jenelle's Instagram and view her stories.