Teen Mom star Catelynn Lowell revealed on her Instagram account that she recently joined Cameo. She then shared a Cameo ad encouraging fans to purchase a video from her for their moms on Mother's Day. Fans flocked to the comments to berate her for proposing that anyone would want to.
The post showed a close up of Cate's face, along with a big title that said:
"GO BIG FOR MOM"
"Surprise Mom with a Cameo video from me"
The caption for her post was:
"😜❤️😍 you can book me on @cameo now 🥰🥰".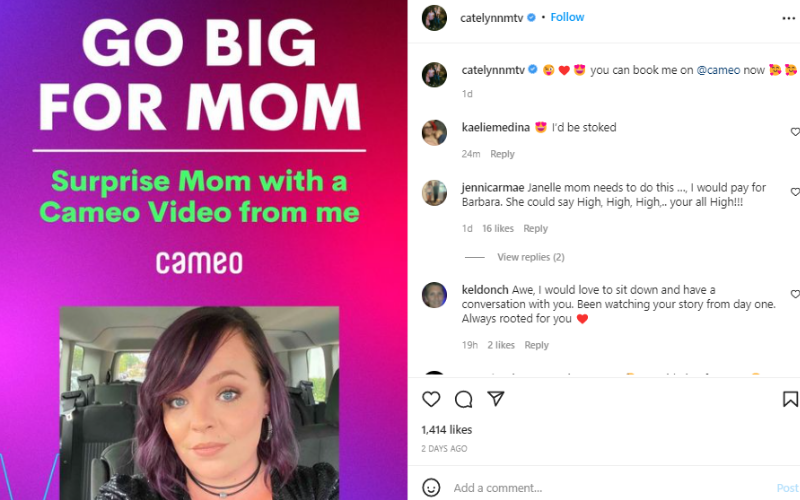 If you are interested, Cate is charging $50 for a personalized video, and $450 for a business request.
Cate only has 79 followers on her account so far, but she does have a five star review. All the reviews from people who have used the service from her have been super positive and fans seem pretty happy with what they get from her.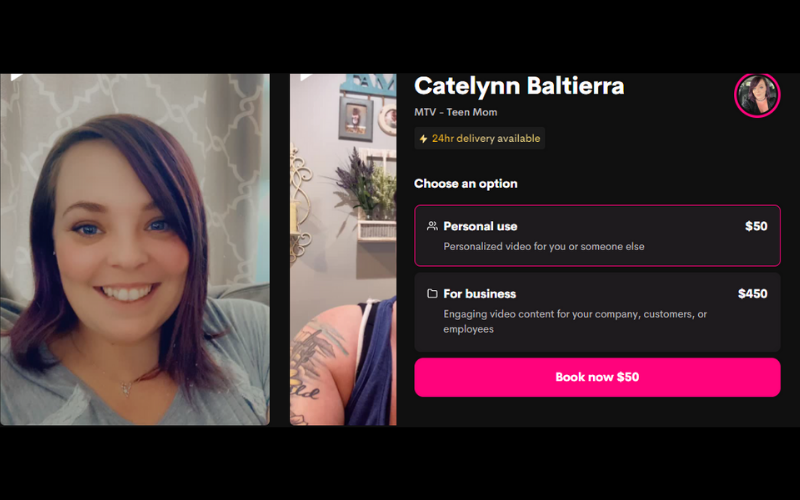 Here's one of her reviews:
"Cate is so kind. She is amazing. My fiance and I both said how pretty you looked just chillin. Kindest sweetest down to earth person. It's worth doing a cameo. She took the time to do a nice one for me. She will for you. I can't believe I got a cameo form Cate. Made my bday for sure. 💜. THANKS CATE UR THE BEST. Our fav teen mom ever and Ty too he's the best. I'm going to multiple cameos I'm that happy and grateful lol is that bit much"
Despite all her glowing reviews, the haters flocked to the comments to berate Cate for thinking that anyone would pay money for a Mother's Day video from her.
One critic harshly commented:
"Literally why would anyone pay for this?"
Another one commented:
"My mom wouldn't even no who you are."
But not everyone was so mean. Some real fans were excited about the opportunity to have interaction with Cate.
Another fan commented calling Cate a "fierce woman" and "an inspiration":
"Mom does not know you….think she will be like Who's that? And I will tell her: Mom this is Catelynn she is a fierce woman, she had struggles that life threw at her but she came out so strong and is an inspiration to others and an amazing mom of 6! Two angels just like me but 4 to cherish forever and see them grow 💗💗💗💗💗💗"