Jenelle Evans has a lot of exes, and a lot of them are not too stable. Nathan Griffith recently went on a rant on Instagram asking fans and strangers to take him in for a few nights.
Nathan Griffith posted numerous posts on Instagram last night asking for a place to stay.
The first post read:
"Is there anywhere I can stay? I wanna get out of Miami and I'm in my car with all my stuff! I have no where to stay! My wife makes me feel I'm trapped. I'm reaching out to anyone. Can I stay with you for a couple nights until I can figure out all my problems!"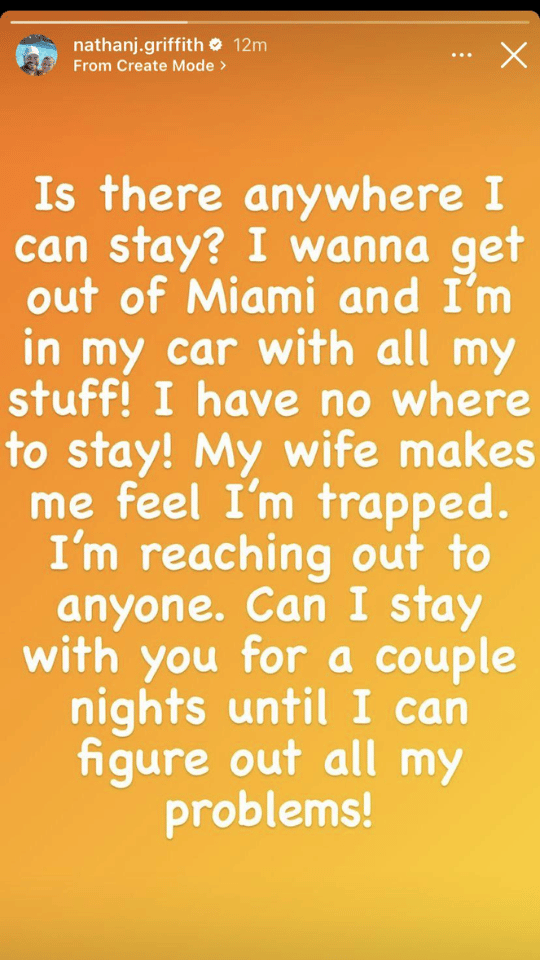 Nathan married his now wife, Mayra Oyola back in April of this year in a secret wedding in Miami.
The couple had originally met on Instagram and hit it off after talking online for a few months.
At that time, Nathan told fans:
"I was just wanting to be casual. I was out of a long relationship and I really wasn't looking for anybody, but as soon as I met up with her, I knew she was the one."
Nathan had also shared that the couple had had some issues before getting married.
He said:
"Things were getting serious and I wanted to run away. Most of the trust issues have been my fault, and we've had a rough time because of me making mistakes, but we finally got to the point where realized we are secure enough in our relationship to get married. That's commitment, we can't just break up and get back together. We've broken up and gotten back together several times and we've finally reached an understanding where we're secure with our relationship and we trust each other where we decided let's just go ahead and tie the knot because then both of us can't back out of it."
A few hours after Nathan's first post looking for a place to stay, he posted another on Instagram.
This time it read:
"So, as I expected… no one was up to the challenge. I am desperate in need. People said I could stay but not tonight. I am sleeping in my car! My wife is completely psycho. I am trying to leave but no one will help a man in need! This is society!"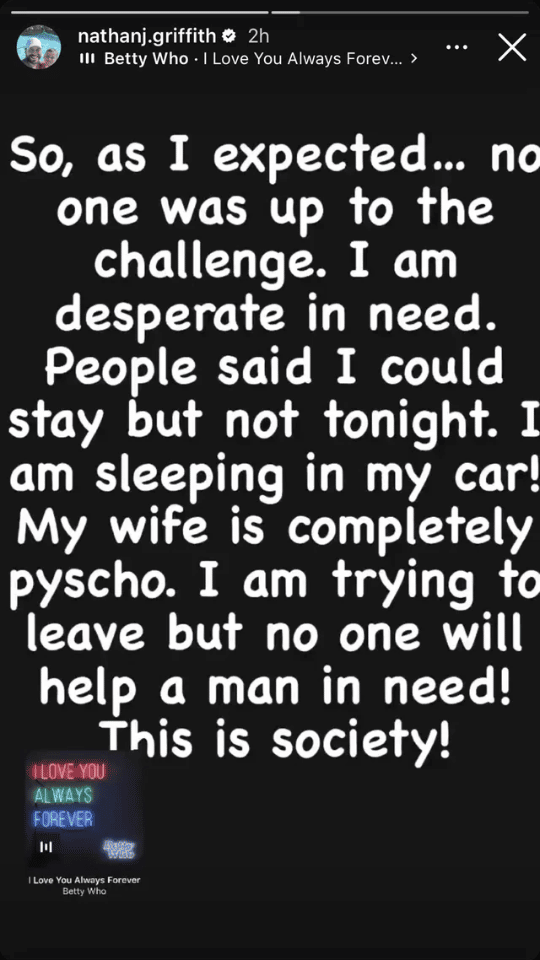 And then a little while later, Nathan made a final post that was pretty jeering.
This time it read:
"When I'm begging for help!!! Guess what?!? I have hepatocellular carcinoma… and my family doesn't answer! So before you guys judge me… that's my life! ANYTHING YOU NEED, YOU GOT"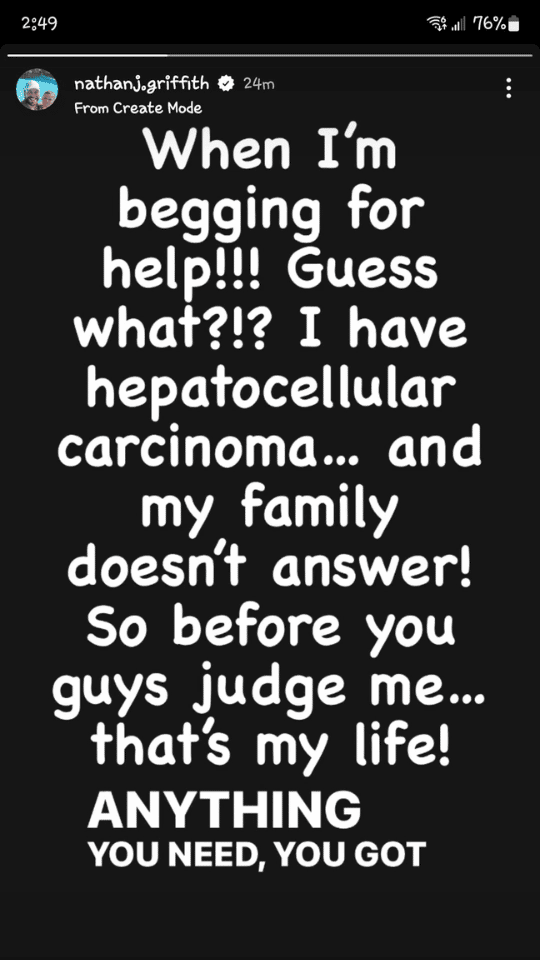 Shortly after the last post, Nathan deleted all of the posts about looking for a place to stay. No word if its because he found a place or not.
What's even more odd about all of this is that just minutes before his very first post, Nathan uploaded a video of himself speaking on the subject of right and wrong.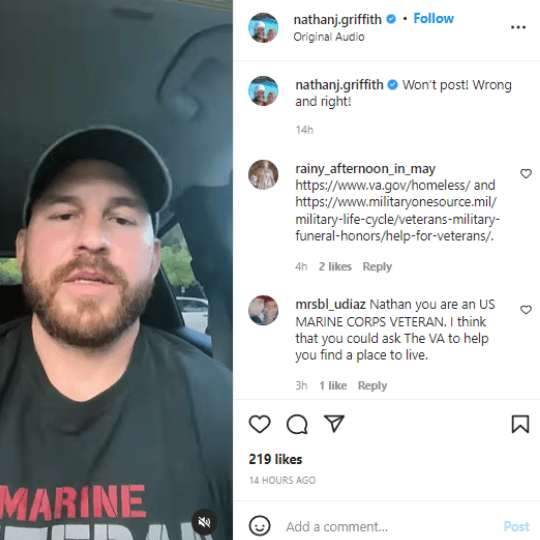 Nathan told fans:
"Living in this gray area is so obsolete. You can't be gray. If you think you're right, you don't need to oppress your opinion on someone else… because you're going to have somebody that's going to disagree with you. There is no right answer. You can put 100 people in the same room for 1,000 days and they're going to argue about the same issues every single day. You know why? It's because they think different. They view society different. They were raised diffusely."
He continued:
"It does not make them wrong. The only thing that makes you wrong is trying to make them agree with your opinion. It sucks."
Nathan ended the long winded video by saying:
"Come together, you need to love each other. You need to respect their opinion and where they're coming from. Think with an open mind instead of thinking that you're right. You will never be right. There is so many things that I think I was right that has cost me so much in my life because I wasn't right. Take this food for your soul. It might help you out in life. It might not but remember: just love one another instead of trying to disrespect someone's opinion because their opinion is different than you."
See the video for yourself below:
View this post on Instagram
Overall, fans were pretty concerned about Nathan and his mental well being after he made all the posts.
The posts were shared to Reddit where many fans discussed Nathan and his mental health.
One fan even posted a post specifically for Nathan in hopes that he would see it and utilize the resources out there for veterans like him.
The post include information about emergency housing for Veterans in the county that Nathan lives in.