Jenelle Evans has been pretty busy with her new OnlyFans account lately. She recently took to Instagram to further promote it and she made a pretty NSFW gesture while showing off some side boob.
Fans have been complaining since she made her OnlyFans account that things have been pretty low key on the page.
So far Jenelle hasn't done anything too risque or crazy on her account. She hasn't done any real nude photos or videos despite boasting some pretty high prices.
Jenelle recently posted a link to her OnlyFans page on her Instagram account and made some not so safe for work gestures.
She donned a snake skin print, teeny bikini as she she held a drink tumbler in her hand. Her bikini top was a once shoulder piece that barely held in her breast. The camera was pointed towards her body as she raised her glass to cheers and stuck out her tongue.
As she raised her arm to cheers, you could see some major side boob going on.
Jenelle put the link for her Only Fans account over her breast, as if she had something to hide that could only be seen on her OnlyFans account.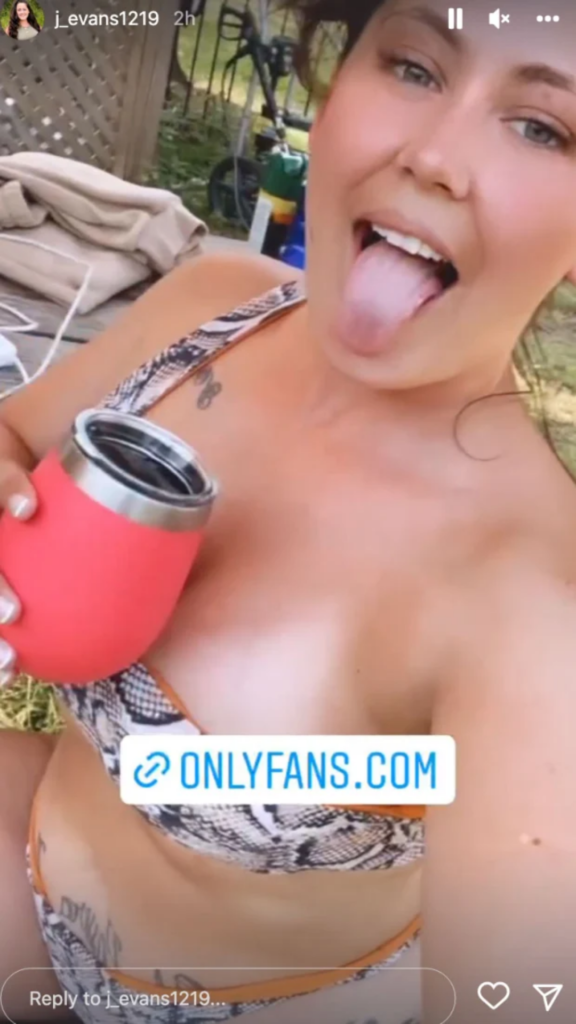 Fans didn't seem to be too impressed with the video clip promotion.
Many fans were disgusted by how dirty and white Jenelle's tongue was in the clip.
One fan commented:
"Even her tongue looks mouldy."
Another commenter said:
"Put your tongue back in your toothless mouth, you unwashed swampy pile of shit."
This is not the first time that Jenelle has flaunted and teased fans with some boobage.
She also promoted her OnlyFans account in a pink cut out bikini with some major underboob.