Chelsea and Cole just wrapped up filming of their new HGTV series, Farmhouse Fabulous. HGTV released a biography for Chelsea on their website to promote the new show, and fans are calling it complete "fluff".
In the biography for Chelsea, HGTV refers to her some interesting things, that not everyone would agree with.
Chelsea was called an "actress", as well as a "global inspiration" by the network.
Chelsea's HGTV biography states:
"Chelsea Houska-DeBoer was introduced to the world in 2011 where she won over the hearts of many on the hit MTV show, 16 and Pregnant. She quickly became a fan favorite and a global inspiration for women and young moms everywhere."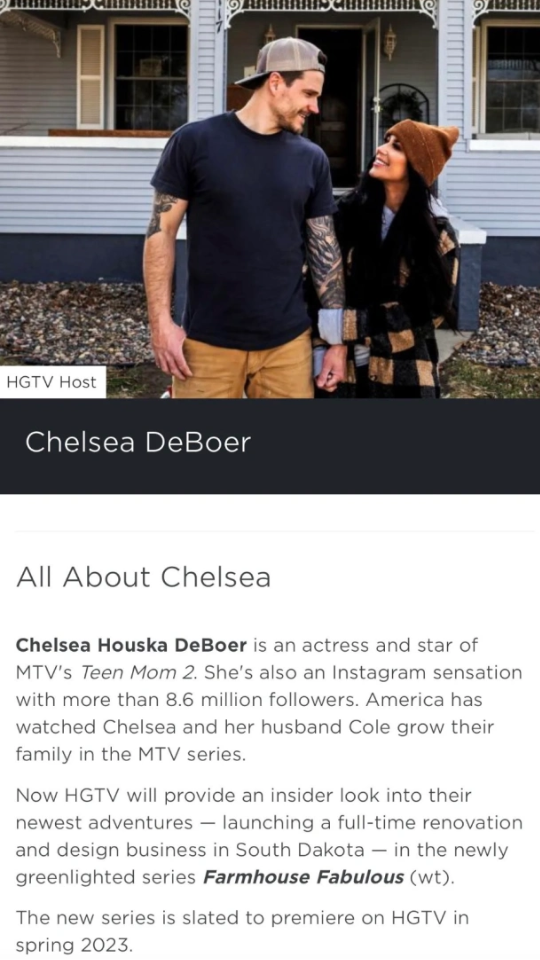 The biography caused Teen Mom fans to flock to Reddit with their opinions.
The Reddit thread started pretty innocently, being titled "Updates on Chelsea and Cole's new show", but it soon spun off into a different direction that focused purely on Chelsea's biography.
Most Teen Mom fans feel that the biography "fluffed" up Chelsea's resume a bit.
One critic said:
"Well there's a vomit inducing fluff piece. Also, 'actress?'"
Another added:
"When you try to spice up your resume 🤣 'an actress' 'the star of the show' 'instagram sensation'"
The comments kept on coming:
"Actress? Global inspiration?! What the heck."
"'Instagram sensation' is a bit much 🤣 she has a lot of followers because of the show, as far as social media goes her content is extremely light and is mostly just random snapshots and ads, she isn't even what I would call an influencer because that requires more interaction and substance."
There were some Teen Mom fans that disagreed with the critics.
One fan said:
"Good for her. It's nice to see a mom thriving."
Another said:
"It seems people here disagree but I'll check it out."
Chelsea and Cole's new show is set to premiere on HGTV in the Spring of 2023.
HGTV has revealed that each episode of the show will be one hour long and will follow Chelsea and Cole as they launch a full time renovation and design business in their home state of South Dakota.
Here's a look at the whole crew as they wrapped up filming.