Leah Messer and her man, Jaylan Mobley recently took her three daughter's to Florida for family vacay before school starts for the girls.
Leah Messer took to Instagram to do a big photo dump of the family's Florida vacation.
She captioned the post simply:
"Vacation mode"
She also added a palm tree and a roller coaster emojis.
The post contained various photos from Universal Studios amusement park in Orlando, Florida. 
One photo showed the whole gang in front of some palm trees. You can see Leah, Jaylan, and the girls with some others that presumably are part of Jaylan's family.
You can see the whole gang decked out in comfy vacation gear, while Leah's oldest daughters are rocking some Harry Potter costumes.
In this particular photo, fans flocked to the comments to declare that Leah as possibly hiding a pregnant belly with her athletic fanny pack.
Leah also posted a picture of all three girls with a boy and a small baby that Aleeah is holding.
The group posed in front of a giant crab.
Leah also shared some other pics while inside the park. 
You can see Leah and her daughter Ali waiting to get on a train through the park. In this pic, Leah is wearing just a sports bra and leggings to beat the heat.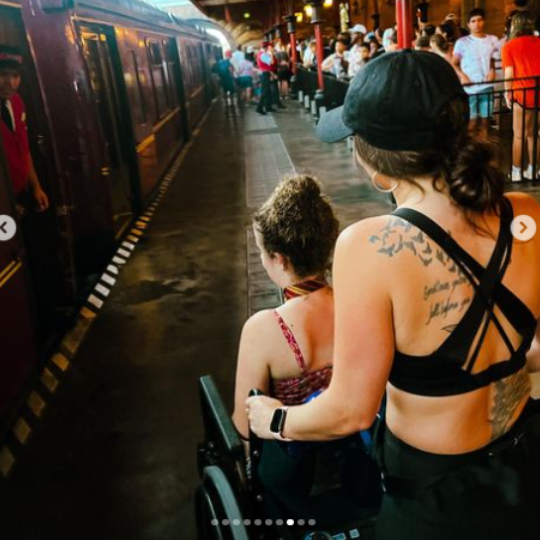 Leah's boyfriend, Jaylan has also been posting pics throughout their time on vacation.
His posts included a montage of him and Leah's daughters which he captioned: "FULL VACA MODE"
There were pics of him posing in front of palm trees with the girls smiling, and he and the girls having some fun in the pool.