Teen Mom star, Leah Messer recently got engaged to her boyfriend of just over a year, Jaylan Mobley. After he proposed to Leah, he also decided to propose to her three daughters with engagement rings too.
Leah shared post with pictures of the girls' proposal to her Instagram account.
She captioned the post:
"When I dreamed of this moment, this is exactly what I imagined it to be. A slow steady unconditional love, not just for me, but also for my three daughters that I cherish most in life. Thank you for everything you do for us. @jaylan_mobley We love you to the ends of the earth. It's just US 4L♾💒🍾🥂
✨Love is patient, Love is kind; It does not envy or boast; it is not arrogant or rude. It does not insist on its own way; it is not resentful; it rejoices with the truth. Love always protects, always trusts, always hopes, always perseveres.
LOVE NEVER FAILS. 💍🥂❤️✨"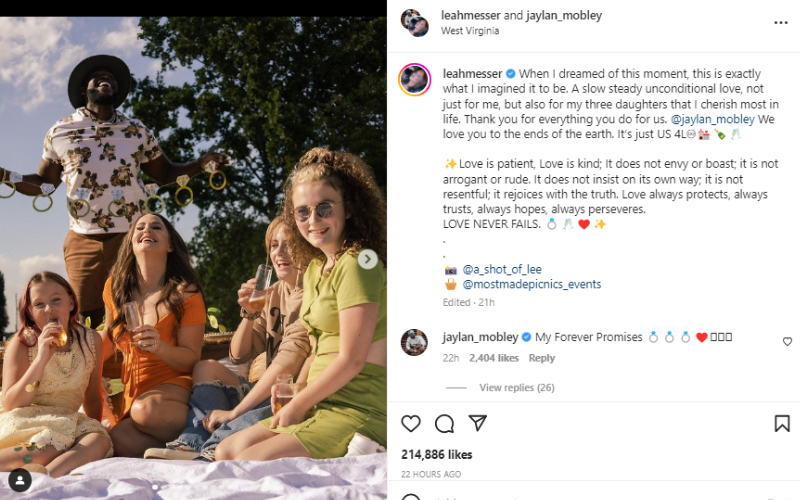 The photos in Leah's post showed an engagement picnic that Jaylan had planned for her daughters.
The picnic included a blanket in the grass, white candles, and some fancy champagne glasses for all. Jaylan even held up an engagement ring banner.
The picnic also included a cake that read, "My Forever Promises", which is apparently what he calls Leah's daughters.
In the picture of the cake, you can see a diamond engagement ring for each of Leah's daughters beneath the cake.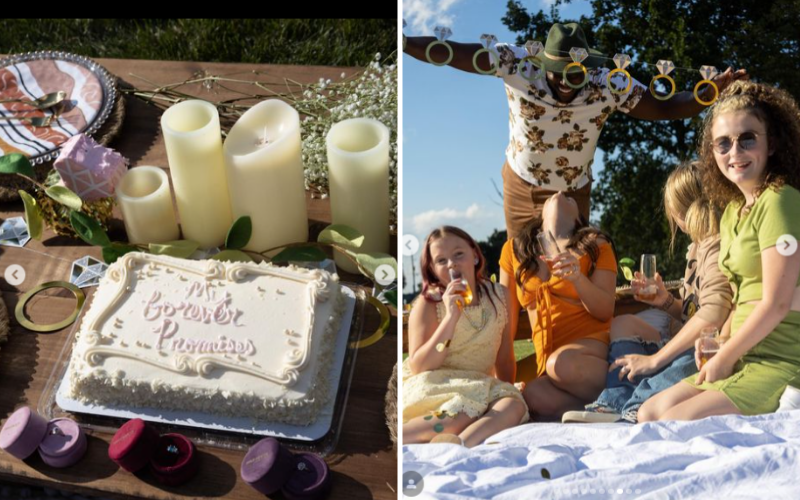 Leah also shared photos of each of her three daughters getting proposed to by Jaylan.
Their reactions were sweet, but you could tell that Leah's daughter, Ali wasn't sure about the whole thing, as she stood with her hands on her hips as Jaylan offered her the ring.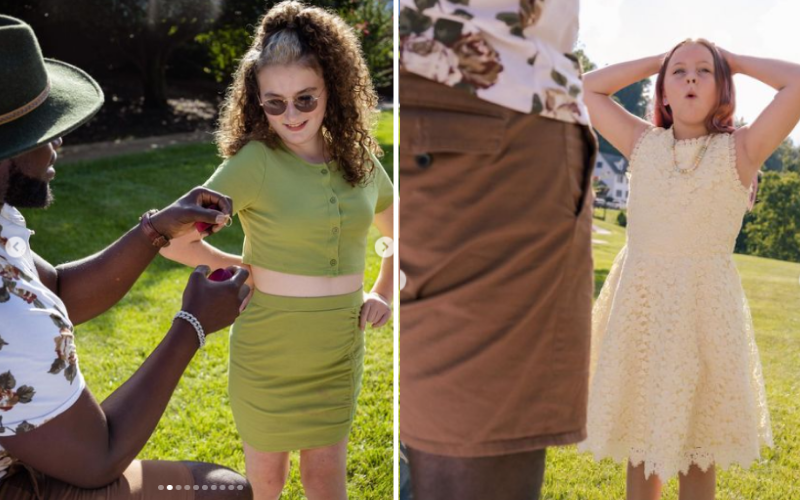 Here is a look at all the girls checking out her new bling.
Leah's daughters were all wearing their new rings on their left hand just like their mom.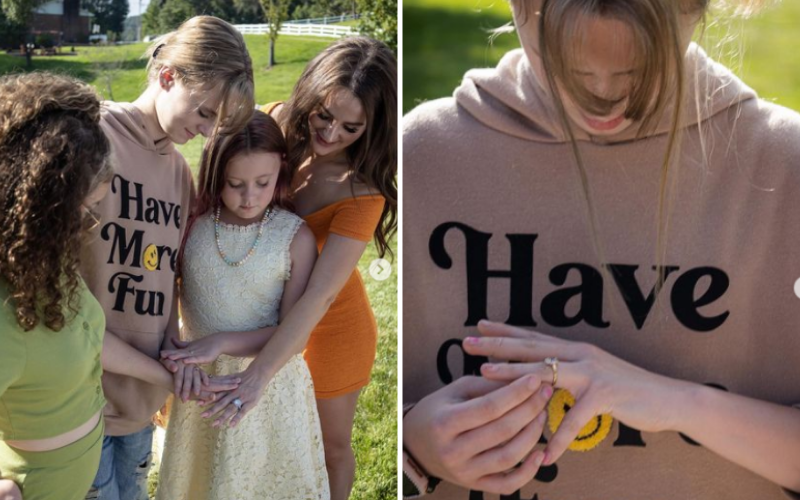 Teen Mom fans had a lot of thoughts about the girls' proposal.
Some fans thought it was super sweet that Jaylan also asked them.
One said:
"I actually think this is pretty sweet. As someone who comes from a divorced & remarried family, I would have really appreciated this gesture as a kid. As an adult with my own kid, I see the value in the message he's trying to give with this. 'You are my family now too, and I make a promise to you also.'"
Other fans thought that the gesture was "super creepy" and "cringe".
One even said something is "off about Jaylan":
"Okay I think including the girls is wonderful especially buying them jewelry because that is special and who doesn't love it. But rings also??? That look very engagement ring like??? Why couldn't he buy them like nice bracelets or necklaces or a non engagement ring looking ring? This is such a great example of what is off about Jaylan."
Another added:
"Creepy especially on their left ring finger."
Some also felt the gesture was just for show:
"I'm with you. It's a sweet gesture if it's genuine but this just seems really performative."
Another commented:
"I feel like although Leah's in a blissful relationship, the majority of the energy is being sucked up by Jaylan.
Every action of love he performs feels public and like a stunt, complete with a "pics or it didn't happen photoshoot" or story. It feels like a performance and it's taking the focus off who should be at the center of it all: Leah and her daughters."