Some Teen Mom stars have have quit the show for various reasons along the way, and some have been fired. Fans are worried that longtime Teen Mom 2 staple, Leah Messer might be quitting the show soon too.
Leah started doing a lot more club and event promotions recently and some believe that this is because she is finding other ways to make money so she can leave the Teen Mom world behind her for good.
Leah recently posted a promotional poster for an appearance at a Ladies Night Out concert featuring early 2000's stars,  112, Jagged Edge, and Dru Hill. The concert will be taking place near Leah's hometown of Charleston, West Virginia.
She captioned the post:
"𝗪𝗵𝗲𝗿𝗲 𝗮𝗿𝗲 𝗺𝘆 𝗹𝗮𝗱𝗶𝗲𝘀 𝗮𝘁?! 𝗜𝗧'𝗦 𝗟𝗔𝗗𝗜𝗘𝗦 𝗡𝗜𝗚𝗛𝗧 𝗢𝗨𝗧 𝗜𝗡 𝗖𝗛𝗔𝗥𝗟𝗘𝗦𝗧𝗢𝗡, 𝗪𝗩! Tickets go on sale next Friday at 10:00 a.m. I'll be at this one! 😍♥️"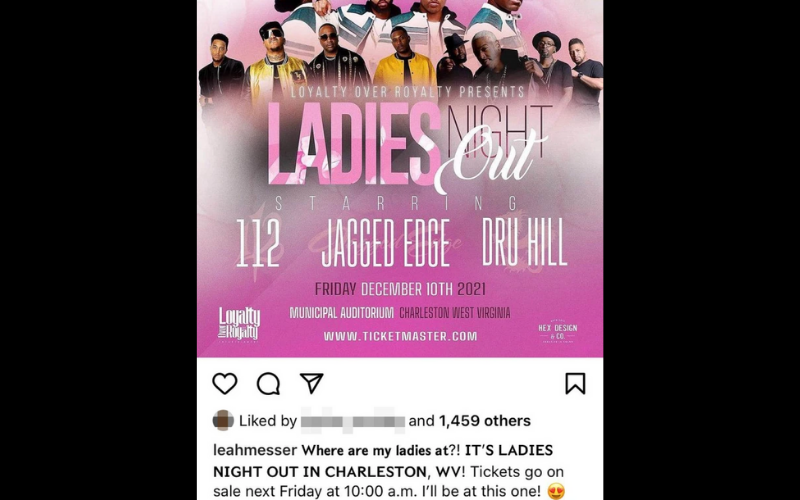 Leah also shared a video post recently on Instagram to announce that she was joining Cameo. You can get a personalized Cameo video from Leah for $75.
Leah captioned the post:
"SURPRISE! I'm back on @cameo ! From now through the end of the year, I'll be available for personalized videos for you or your loved ones this holiday season! I can't wait to connect with you guys! Link in the bio 💃🏽🙌🏻"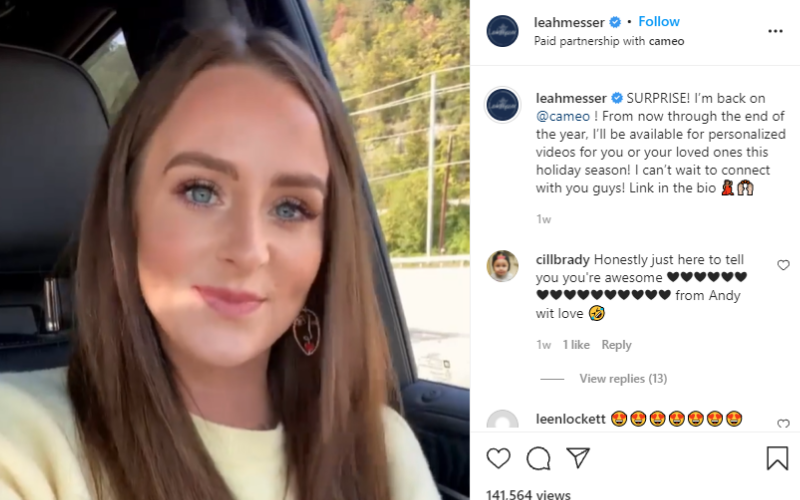 In the video Leah is in the car and says:
"Hi guys, its Leah Messer from MTV, and I am so excited to be joining the Cameo family and to be getting to connect with every single one of you. I really look forward to chatting more!"
Fans have been doing a lot of speculating that this is all leading up to a permanent hiatus from the MTV series.
One said:
"MTV said do something, get a storyline or you are out…"
Another added:
"Leah said my kids can watch themselves now, I'm outside"
Yes another commented simply:
"Girl WTF?"
And yet another speculated that the whole series may be coming to an end:
"Teen mom must be coming to an end."
You might remember that Leah's BFF, Kailyn Lowry has not been filming for the series. Maybe Leah will soon be following in her footsteps.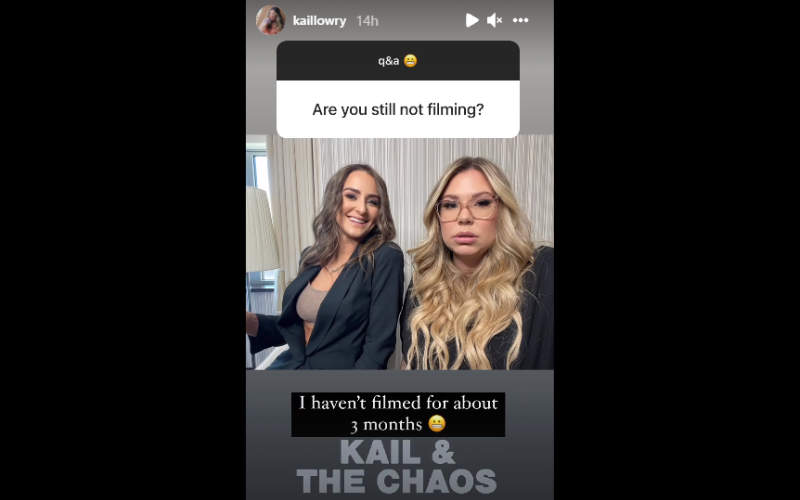 Kail Lowry claims that she has not filmed in over 3 months. This all came after some major beef with MTV after they signed a contract with her ex/baby daddy, Chris Lopez to film for the show without talking to her about it.
Whatever Leah's plans are, we hope she stays on the show and can keep entertaining us for years to come. We will miss Leah and "the girlses" for sure.