Teen Mom star Tyler Baltierra just might be the best dad ever. He sweetly shared a post for his daughter, Novalee's first day of second grade in which he shared he helped her style her hair for the big day.
Tyler shared the post to his Instagram account this morning.
He captioned the post:
"Novalee's first day as a 2nd grader! She picked out her outfit & everything. She was so pumped to go back to school. Seeing her excitement this morning & talking about it while I straightened her hair is a cherished memory I'll make sure to keep forever! She's growing up so fast…please slow down baby 🥹❤️ #NovaleeReign #BlessedByDaughters #GirlDad"
Here's a glimpse of the actual post: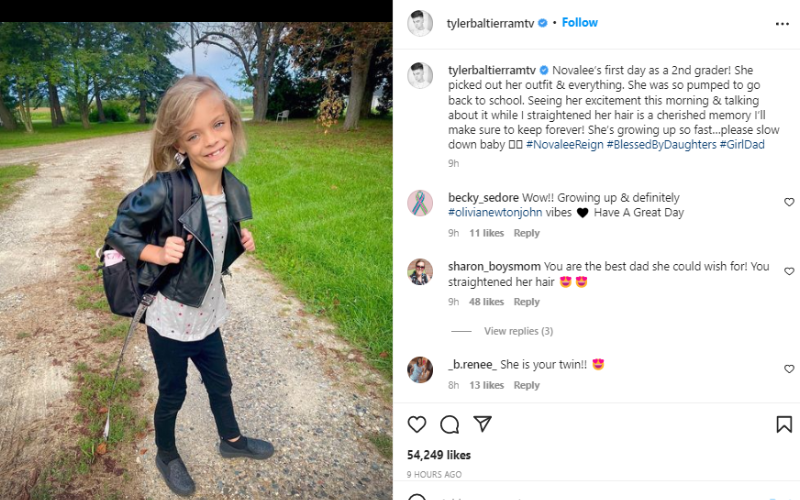 In the sweet picture, Nova smiled as she posed with her backpack for her dad.
Tyler shared in his post that Nova had chosen her first day of school outfit on her own. She rocked black pants and a black cropped leather jacket with a polka dot shirt underneath.
Fans of course had their thoughts about the post.
Some fans didn't like that Tyler straightened his daughter's hair.
One critic said:
"He could have done some research on caring for and styling wavy or curly hair if he really wanted to be the best girl dad there is."
Another said:
"I wonder what her natural texture is that he felt the need to straighten it."
Other fans were over the moon about what a wonderful dad Tyler is.
One fan said:
"You are the best dad she could wish for! You straightened her hair 😍😍"
Another commented:
"You you straightened her hair?! Your an amazing dad!"